Laser Therapy
What conditions do we use it on?
• Osteoarthritis, joint pain and hip dysplasia
• Muscle and ligament damage
• Post-surgical pain and wound healing
• Post orthopaedic surgical recovery
• Ear disease
• Working and agility dogs after extended exercise periods or to aid healing post strains and sprains
What is Laser therapy?
Laser therapy delivers specific infrared wavelengths of laser
light to induce a therapeutic effect within the body.
This is achieved by increasing circulation to the affected areas,
decreasing swelling and inflammation, helping to repair
damaged tissue and reducing pain
Why should I try Laser for my pet?
Laser is a relatively inexpensive, non-invasive treatment for a range of conditions. Most patients actively enjoy undergoing laser treatment.
Laser can be used in conjunction with other medications such as anti-inflammatories, antibiotics and skin treatments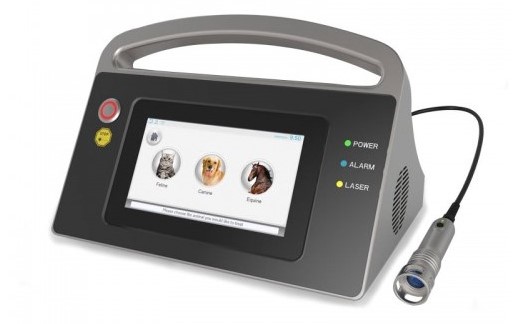 Client Testimonials
'I just wanted to let you know how well the laser treatment is working on Fizz. Although she is now 15 coming up 16, the laser treatment has had a wonderful positive effect on her. She is more agile when walking, not so stiff legged and is chasing toys around again like a young kitten. She thoroughly enjoys the treatment and attention she gets when having it done, and happily purrs away. She is totally relaxed afterwards as well and not at all stressed or upset. I think she would stay under the laser pen all day if she could!
Thank you again for recommending this treatment, and I would totally recommend this to anyone with aged pets wishing to help ease their suffering and aches and pains. Next time I come in please ask Amy or Lydia if they would treat my aching joints as well 😊'
Michelle Feb 2018 Fizz 15 year old domestic shorthair cat
Client Testimonials
'Since Woody's been having laser treatment it's relieved him of pain in his hind legs. His eyes are brighter and he seems happier moving about. He finds it easier and not so much of a struggle. He's even wagging his tail and giving pigeons a chase! When he had a gap not using the laser he really stiffened up. I would recommend it for dogs with arthritis'
Mrs S Feb 2018 with Woody 14 year old golden retriever
Client Testimonials
'Cleo has had 6 sessions of laser therapy, after the second one I could see an improvement in her mobility and this continued until she is now more active and enjoying life more in every way. It is a treatment that is pleasant for her to have that has made a noticeable difference in her life of a 13 year old dog and would recommend it to anyone if their pet might benefit from it'
Judith Feb 2018 owner of Cleo 13 year old Labrador retriever
FAQs
Is Laser therapy painful?
There is little or no sensation during treatment. Some patients will feel a soothing warmth and mild tingling.
Is Laser therapy covered under pet insurance?
Most major insurance companies cover laser therapy. We are happy to check your policy documents with you, or send in a treatment pro forma, to make sure you are covered.
How long after treatment will I see results?
This is very much dependant on the individual patient and the condition we are treating. Some will see instant results and others will take a number of treatments. This will be closely monitored by our vets and nurses to ensure that your pet gets the best possible care.
Can I try to see if my pet likes it?
We are always happy to undertake a free trial of laser once you have been referred by a Veterinary Surgeon – please ask one of our nursing team, call us on 01684 573333 or alternatively you can e-mail us on reception@best-friends.co.uk
Telephone 01684 573 333
Email reception@best-friends.co.uk
Best Friends Veterinary Surgery, 154 Worcester Road, Malvern, Worcestershire WR14 1AA